You all know that I have been obsessed enthusiastically creating traditional style faux quilted projects that mimic actual quilt patterns. With this latest project, I decided to step out of my comfort zone and see what I could create with Makin's Clay.  Ann works and designs for Makin's and I had the pleasure of demoing for them at the CHA Winter 2014 Show.  This clay is versatile. It is already conditioned right out of the package and since it is air dry, it is very easy to work with AND you don't need a lot of special tools!  I have another project that I created with the leftover pieces of Clay that I will share on my blog next week, so stay tuned!
Now, on to my project…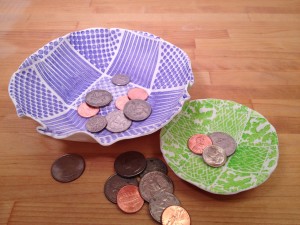 Materials:
Ann Butler Designs Faux Qulited Stamps by Unity – 2″ Stripes.Dots.Hearts. and 1″ Leaves All Over
Ann Butler Designs Crafters Ink by Clearsnap – Lilac and Limelight
Makin's Clay – White Air Dry Clay and Tools – roller and cutters set
Non-stick craft sheet, assorted bowls, plastic wrap, acrylic stamp block,
plastic zipper bag, damp paper towel.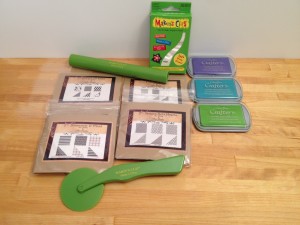 Instructions:
1. Roll out white clay to about 1/8″ thick on craft sheet using the roller tool.  turn craft sheet as you roll, so your clay is as round as possible.
2. Place bowl upside down on Clay and cut around rim with straight cutter tool.  NOTE: place excess clay in plastic zipper bag with damp paper towel, so that it does not dry out.

3.  Flip circle over and smooth any rough edges with your finger.  Place 2″ Dots. stamp on block,  ink with Lilac and stamp in center of circle.  NOTE: I eyeballed the stamp placement because once curved you won't notice the alignment. Push firmly, but not too hard or your stamp pattern will be distorted in the clay.  Continue stamping, alternating between Strips and Dots until the circle of Clay is covered.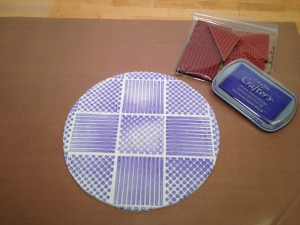 4.  Place plastic wrap on bottom of bowl, place stamped Clay circle upside down on the bowl.  Press gently with your hands, so that the clay forms to the shape of the bowl.  Set aside to dry overnight.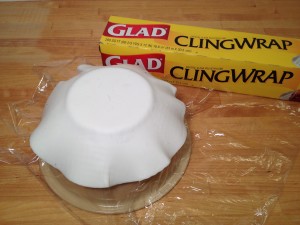 5.  Repeat steps with a different size bowl using the 1″ Vine Stamp from the Doily Picnic set and Limelight Ink.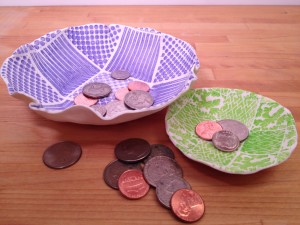 6.  Once bowls dry, fill and enjoy!
Thanks for stopping by! – Beth