Hey crafty friends! Einat Kessler here with a technique based fun project.
Did you know that ink can turn into paint with a little water? This frame was entirely painted by only Ann Butler's inks. It's a really easy technique that has a beautiful artsy effect. First press the ink pad on a craft sheet so it'll "ink" it. Then spritz water on it to turn it into liquid ink paint. Take a dropper and fill it with the liquid ink.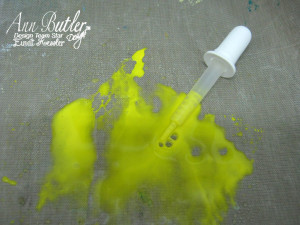 Drip the liquid ink on the frame letting little pools form. Once you are finished with one color set it with a heat tool. Then repeat the process with a other color. I used Tangelo, Sunshine and Berry. Don't worry if a little white is showing, it's not supposed to be completely covered.
Keep dripping liquid ink until you're happy with the result. Once happy with the result go over the frame with your fingers applying a finished touch with a little more ink.
To add color to the flowers, stamp the craft sheet with some more ink and spritz very little water. Dip the flowers facing down in the ink. Attach the flowers to the frame.
This is a really easy project with very few supplies, but it has a beautiful colorful look!
Have fun creating!
Einat