I can not express my gratitude enough for the wonderful response we had when we put out our second Design Team Call….  It was had to narrow it down to just the few we were looking for but we did it and I am happy to announce the Design Stars for 2014 – 2015:
Design Team Coordinator Larissa Pittman: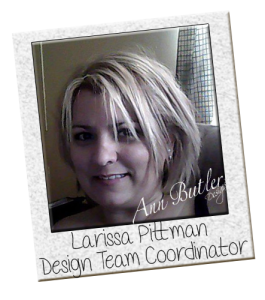 Hi my name is Larissa and I live in a small town in the Texas Hill Country.  I have been creating most of my life. I love working with every kind of medium.  I have been making cards for about 10 years and recently started playing with mixed media.  I tend to work more with bright colors and lots of bling.  I am married and have a 23 year old daughter and 2 fur babies. When I am not in my studio creating I am spending time with the family, blogging, cooking, baking, reading magazines or watching a little Reality TV.  I am totally excited to be here and cannot wait to share my creations with you.  Connect with me:  Blog, Pinterest, Facebook, Twitter, Youtube, Google+ and Instagram @muffinsandlace
Blog Hop Coordinator Kristi Parker: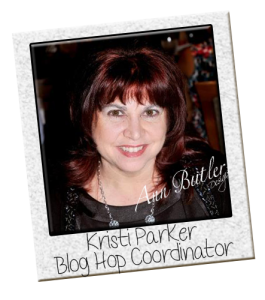 Hello, my name is Kristi Parker Van Doren and I live in Missouri, the Show Me State! I have been involved with paper crafting for over thirty five years. I was introduced to stamping at the age of 12 and over the years, I have taught many classes at the local stamping and scrapbooking stores as well as special events. I have also worked the retail side and am a previous store owner. I love to create a large spectrum of projects with a broad range of styles. I have been blessed to attend CHA and demonstrate for several companies. My style varies depending on the materials I have on hand and what is called for on any given project. In 2013 I have worked with Connie Crystal, Tombow 100 days of Tombow, Art Glitter, Holly Berry House Originals, Craft Attitude, Envirotex, ICE Resin, The Robin's Nest, Smoothfoam and MORE!  I have worked with some wonderful companies and have been published in a variety of magazines. I love creating cards, altered arts, home décor, mixed media, jewelry and scrapbooking. In my spare time I also enjoy spending time with family and friends!  My two sons are my pride and joy and are one of the reasons I create. My motto in life is: Be with those who help your being!  Connect with me: Blog, Twitter, Facebook and Pinterest

and my Amazing Team of Design Stars for October 2014 – September 2015: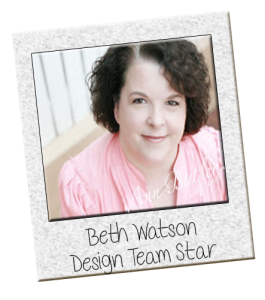 Beth Watson is a creative design professional, specializing in mixed media design, three dimensional crafts and home décor.  Armed with a formal education in Marketing from Ringling School of Art & Design, Beth developed her professional skills in the restaurant industry before turning her focus to the craft world in 1998.  Beth is a member of the CHA Designer Council and her designs have been published in numerous craft magazines and books.  She enjoys bringing a unique twist to her designs by using traditional materials in unconventional ways.  Professional design and promotional services include:  product demonstration, advertising and marketing consultation, editorial and instructional writing, workshop teaching for adults and children, design team and contributing artist commitments; and project design for publication.  Connect with me: Blog and Facebook.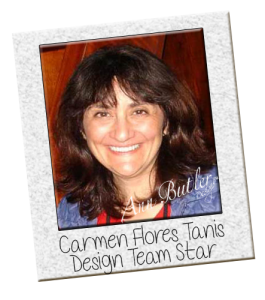 Carmen Flores Tanis is a mixed media artist, crafter and designer who specializes in combining diverse materials in unusual and unexpected ways. She loves to make things! She is a Designer Member of the Craft and Hobby Association and has two successful online craft supply stores. She teaches craft classes in Southern California and her secret to crafting happiness is "patience, practice and power tools."  Connect with me: Blog and Facebook.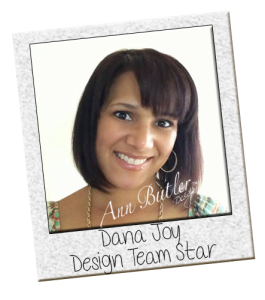 I'm a mom to two grown kids, one toy fox terrier and a fabulous wife to my high school sweetheart. We have been married for over 20 years.  Yup, he's a keeper!  I've been stamping for over 14 years and started my blog in 2009.  My favorite coloring medium is Copic markers (they are evil).  Also love playing with pattern paper, ribbon, glitter, mixed medium tools and embellishments. To be honest, I love mostly all stamping and crafting items. ☺️ I spend most of my time trying to hang out in my stamp room. Love working with other people who also enjoy creative expression through crafting.  Connect with me:
Blog
and
Facebook
.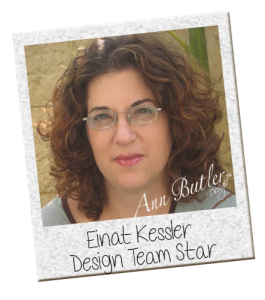 My name is Einat kessler and I'm a designer from Israel.
I am a designer, workshop teacher, writer and designer.
I have started scrapbooking and crafting about 8 years ago and lovin' every minute. I started with scrapbook layouts and gradually branched out to 3D designs, mixed media and interactive designs.  I was published in several international magazines and e-books and been a guest designer in several blogs and blog hops.  During the years I served on several design teams, among them Sketchabilities, Susan Weckesser and Spellbinders.  A year ago I started a YouTube channel where I teach free workshops every week. I am a faculty member at My Creative Classroom and during CHA 2014 Mega Show I taught a mixed media class: "Whimsical mixed media workshop".  Creating for me is a hobby, a profession and a way of life. I hope to inspire you and encourage you to create and maybe even step out of your box a little.  I'm married to an amazing husband and we have two teenage boys, who are all my inspiration.  Connect with me: Blog and Facebook.
Hello! I'm Graciela but I am mostly known as Graciellie on the online papercrafting community. I am an avid crafter and blogger and a bit of a graphic designer! I actually studied Laws and Business Management, but I have always been creative, so it was no surprise that I was drawn to papercrafting soon after I graduated from my second major. I discovered papercrafting through cardmaking around 2010 and little by little it became my passion. Since I opened my blog I've felt even more captivated by this craft and I've discovered that I also enjoy working with alternative projects that give me freedom to experiment with different techniques. My style goes from shabby chic to vintage, and I tend to create classic and feminine projects. My blog has allowed me to connect with other artists and it has given me so many opportunities that I'm thankful for. Currently I'm part of various design teams that I enjoy to work with very much. Now Ann Butler Designs welcomes me to a new team and I am so grateful to be part of it!
I look forward to sharing my work with you all. I believe the genuine nature of creativity is inside each of us, so I'd be delighted if you could join me in this journey!  Connect with me:  Blog and Facebook.

Hugs from Honduras/Brazil,
Graci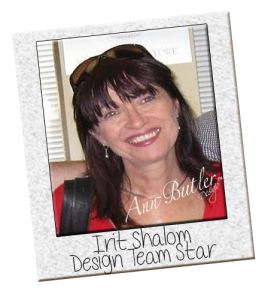 My name is Irit and I am an Israeli designer and scrapbooker. In my real life I am a working dentist, a wife of retired  high  police officer , Mom of 4  grown- up kids and a grandma of one adorable baby boy and a new baby girl . I am an addicted crafter since I can remember, but  for the last 5 years I moved to paper crafting and found my real  crafty love.I am the most versatile in both styles and kind of projects and it moves from scrapbooking and cardmaking to  Mixed Media and altered art, OOP projects and  even jewelry making. Right now I design for 7-8 American, British,Polish, South African and Australian companies. In the past I designed for like 20 more  manufacturers and shops all over the world. I am a staff member for Scrapbooking.com web magazine for last 2 years.  My work was print and web published in Israel, USA and UK magazines in the last 3 years.  I  hope to inspire my readers with my versatile crafty style and invite you to connect with me:  blog and Facebook.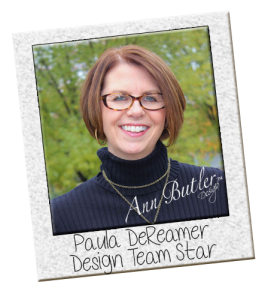 Paula is originally from the south, but currently lives in northwest Minnesota, with her husband and two children.  She started scrapbooking over 16 years ago. Little known at that time, as to the creative process that started, going from cards to altered arts. She still teaches various classes locally, but has been on a bit of a hiatus for a few years. Being creative and working with various mediums is truly a passion.  Paula holds a degree in graphic arts and has worked in the printing/publishing industry for many years. She currently works for a software company providing services to various printers. Although this is her day job, she wishes could spend as many hours playing in her studio!  connect with her: Facebook.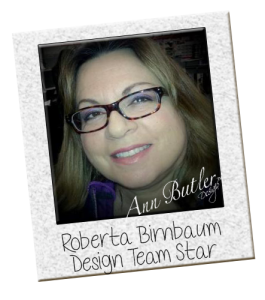 Hello, my name is Roberta and I live near Toronto, Ontario in Canada.  I have a fearless approach to life and art and there is no medium I will not try. My favourite crafts are: card making, mixed media, watercolour, and glass painting.  I love crafting spontaneously; just grabbing miscellaneous objects and dreaming up all different ways to use them.  I try to focus on upcycling and recycling in all my projects. This was a very popular feature on my webshow, 'Robi at Night', called 'So, what would you do with this?'  I teach art, mixed media, jewelry, and card making from my home studio as well asClasses to Go where I bring the craft class to you!  I am also an instructor for Michaels Craft Stores.  Connect with me: Blog and Facebook.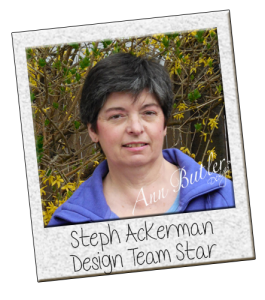 My name is Steph Ackerman and I live on Long Island with my husband, our son, and our very photogenic pup.    I have been creating in some form for as long as I can remember. I love the creative process, am very versatile and love to create an assortment of different projects – from canvas wall hangings with inks and dyes, to miniature pieces of artwork such as tags and  cards – I love to see what I can create in the confines of small spaces.  My day is not complete if I haven't spent some time in my craft room.  I have a dedicated studio where I play and create.  I  also teach a wide variety  of paper crafting and tool related classes in my studio and my local craft stores and I encourage my students to play with their products and tools.   I believe that only by playing can you unlock your potential and the potential of the products you are working with.   You have no idea what you can create if you don't take time to play and explore.  I am a CHA designer member, have the pleasure of being on a number of design teams and have had my work published in a number of magazines.  I am thrilled to be a part of the Ann Butler Design Team.  Connect with me: Blog and Facebook.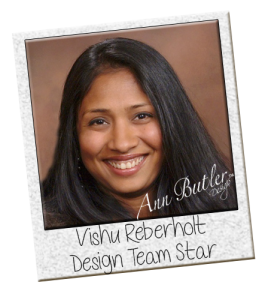 Hi my name is Vishu, I am an Engineer by profession and crafter by passion, a mother of 2 amazing kids who fill my life with laughter everyday. I started seriously crafting 2 years ago and love making cards, there is something divine about giving a handmade card to somebody. I always find giving a handmade card or gift more satisfying. Challenging myself to use dies and stamps in a different ways is always fun. I hope to inspire everybody to flex their creative muscles and think out of the box.  Connect with me: Blog and Facebook.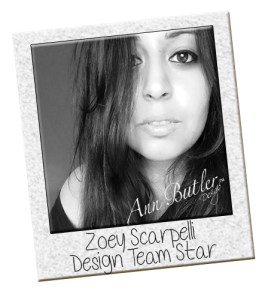 My name is Emanuela Zoey, but everyone calls me just Zoey because is shorter…short like me! LOL . I live in a small town near Bologna, Italy. I always been a "creative kid" , since when I was little I remember teachers told my family to let my imagination run wild, and so they did. When I turned 20 I stopped drawing, I don't know why, but I started again few years later, because I was bored lol! I started making cards and it got me addicted since the first card I made! I travelled a lot and this gave me the opportunity to find more about the card making/scrap booking world — which was still a 'niche' world here in Italy.While in the beginning I was making only 'traditional' cards, now I jumped into the mixed media world, a world where I can find again the little kid I was, where I can run wild and let my imagination run with me without any rules. I also love to create Layouts, Altered projects, ATCs and TAGS.  I get inspired by everything that surrounds me and I am not afraid of mistakes, as I find they add a touch to the final artwork, because no one will know, except yourself.  Connect with me: Instagram, Facebook and Blog